Funny things
We have done it again!

This year, we are having a little fun with the music station and adding some non-traditional songs to the playlist.

Yes, April fools brings such artists as "Sister Smile" with her # 1 hit "Dominique"



Here are some facts:The LP was released in the US as "The Singing Nun," but there was no American reaction until this was released as a single, then both the LP and the single worked their way up to the top of the albums and singles charts. It was the first time that a single topped the Hot 100 as the same time that its LP topped the Billboard album chart.

This knocked "Louie Louie" by The Kingsmen out of the #1 spot.

The Singing Nun is actually Sister Luc-Gabrielle, member of a Belgian Dominican order convent. She also recorded as Sister Sourire, French for "Sister Smile."

This song, about St. Dominic, Spanish-born priest and founder of her order, has French lyrics:

Dominic....anic, anicIl parcourt l'Europe a pied,
Scandinavie au ProvenceDans la sainte pauvrete.

What else will we play? How about lots of those wonderful songs from the 60's. Like "Michael row the boat ashore.." and many others ( hint...think about Peter Paul and Mary)! Tune in and see if you recognize any of them!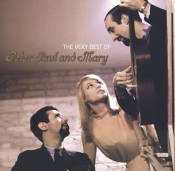 If you don't know PP&M here's a bit:
"Peter, Paul and Mary are folk singers." So stated the liner notes to the group's self-titled 1962 debut album. Today, this declaration seems redundant, because the term "folk music" has come to be virtually interchangeable with the group name, but when the words were written, they were meant less as a stylistic distinction than as a mission statement.
No American folk group has lasted longer or amassed a more loyal following than Peter, Paul and Mary; indeed, few groups of any genre have logged more years (43) or miles (countless) in direct, yearly touring; spreading the message and engaging the next (now four) generations. During its now legendary career, the trio won five Grammys, produced five Top 10 albums and 13 Top 40 hits, of which 6 ascended into the Top 10 - as well as six gold and three platinum albums.
Dominique
(Refrain)
Dominique, nique, nique
S'en allait tout simplement,
Routier pauvre et chantant
En tous chemins, en tous lieux
Il ne parle que du bon Dieu.
A l'époque où Jean Sans Terre
D'Angleterre était roi,
Dominique, notre Père,
Combattit les Albigeois.
(Au Refrain)
Certain jour un hérétique
Par des ronces le conduit,
Mais notre Père Dominique
Par sa joie le convertit.
(Au Refrain)
Ni chameau, ni diligence,
Il parcourt l'Europe à pied.
Scandinavie ou Provence
Dans la sainte pauvreté.
(Au Refrain)
Enflamma de toute écoles
Filles et garçons pleins d'ardeur,
Et pour semer la Parole
Inventa les Frères Prêcheurs.
(Au Refrain)
Chez Dominique et Ses Frères
Le pain s'en vint à manquer
Et deux anges se présentèrent,
Portant deux grands pains dorés.
(Au Refrain)
Dominique vit en rêve
Les prêcheurs du monde entier,
Sous le manteau de la Vierge
En grand nombre rassemblés.
(Au Refrain)
Dominique, mon bon Père,
Garde-nous simples et gais
Pour annoncer à nos frères
La Vie et La Vérité.
(Au Refrain)
Please register or login to add your comments to this article.